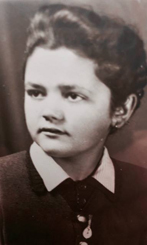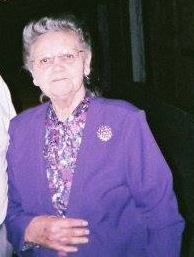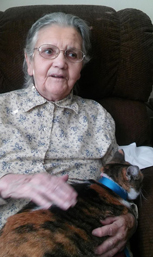 Irene S. Weitert, age 90, passed away in her sleep around midnight on March 2, 2017. For her final 3 days, she was being cared for at MHP Hospice Serenity House, Oskaloosa. Prior to this, she was living at Homestead Assisted Living, Oskaloosa, for several years.
Irene was born Feb. 20, 1927 in Alsomocosolad, Hungary to Hans Weitert and Elisabeth Pickelhaupt Weitert. Her father, a high ranking official in the Hungarian government, along with his family, was forced to flee to Germany as the Russians gained control in Hungary following WWII. While living in Germany in the mid-1940s, doing volunteer work in area hospitals with the war-wounded, Irene met an American GI, Leonard Mueller, who was stationed nearby. Living conditions were difficult for Irene, a war-displaced person. Leonard felt compassion and began telling his parents back in South West Kansas her story. His parents, Will and Anna Mueller, began sending her care packages. Eventually, they invited her to come live with them in the U.S., which she did in 1950. Although not legally, the Mueller family adopted her as one of their own. (While still in Germany, she was engaged to a young medical student. He was killed prior to being able to join Irene in the U.S. as they had planned. Irene never married, but had many friends and family in the U.S. This included Darrell and Vangie Mueller Baxter, and family; also long time friend, Deb Fash who provided much care for Irene during her later years.) To the best of her knowledge, she has no known close blood family still living. Many died during WWII and during the aftermath in the years that followed.
From an early age, through the influence of her parents, Irene had a deep and profound faith in Jesus. Through friend connections in the U.S., she decided to move to Vennard College in University Park, IA to work with and teach Bible college students. As a evangelist and prayer Chaplin, she remained at Vennard and associated with Vennard until the college close. In addition, she was an active supporter of missions, including many years with World Gospel Missions (Local Men With Vision Chapter). She was also heavily involved with the Iowa Holiness Association for over 50 years. She also served on the pastoral staff at Searsbaro Friends Church, Lovilla Community Church, and Wesleyan Church in University Park. For many years she also served as a board member at Bethany Children's Home and Christian Mission Center, Campton, KY.
Irene was a popular speaker, traveling to many parts of the U.S. (and also some overseas) where she shared her story and testimony of her faith in Christ. Her passion, sense of humor and strong Hungarian accent made her a compelling communicator.
Friends, family and others whose lives Irene touched are invited to a fellowship on Friday, March 10th at Omega Church, 203 Hope Street, Oskaloosa, IA 52577, 7:00-8:00 p.m. And then on Saturday, March 11th, you are invited to her Celebration of Life Service, 10:30 am at Omega Church, conducted by Pastor Dave Brown and Brady Hunter, president of the Iowa Holiness Association. Following will be burial at University Park Cemetery, conducted by Pastor Dave Brown.
Funeral and burial arrangements are provided by the Bates Funeral Chapel. Memorials can be made to Iowa Holiness Association in care of Omega Church, 203 Hope Street, Oskaloosa, IA 52577