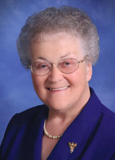 Marion Alice Lewton, 90, of Marion, entered Heaven's gates at 1:20 pm on Friday, May 8, 2020, at Colonial Oaks Health & Rehabilitation Center in Marion. She is now with her Savior, Jesus, whom she had longed to see.

Marion was born in Crystal, North Dakota, on March 27, 1930, to Harold and Winifred (Sargent) Empie. It was on August 15, 1948, that she married Gene Curtis Lewton. Together, they served as missionaries to Kenya, East Africa, for 42 years with World Gospel Mission. She was a member of Avon Park Church of the Nazarene in Avon Park, Florida, and had attended Chapel Pike Wesleyan Church after returning to Marion. Marion will be known for her contagious, bubbly personality and one who dearly loved people. She served the Lord with joy and it was her lifelong desire to share with others her love for the Lord and the hope of eternal life that He offers.

She is survived by her daughters, Colleen (Terry) Hawk of Marion and Diane (Chris) Rauschenbach of Gilbert, AZ; sons, Ken (Albert) Lewton of South Bend and Dwight (Jennifer) Lewton of Marion; 12 grandchildren; and 16 great-grandchildren.

She was preceded in death by her parents, as well as her husband, Gene, on February 9, 2010.