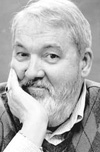 DANVERS — Rev. Dr. Peter Wilfred Stine, 72, of Brooksby Village, Peabody, formerly of Danvers, retired Pastor of the First Baptist Church of Danvers and retired Chair of the English Department at Gordon College; beloved husband of the late Betsy (Carnall) Stine, died unexpectedly Friday, Aug. 5, 2011, at Massachusetts General Hospital in Boston, following a short illness.
Born in Saginaw, Mich., he was the son of the late Earl J. Sr. and Ione G. (Best) Stine. He was raised and educated in Michigan and was a graduate of Asbury College (Kentucky), Northwestern University (Illinois), and Michigan State University, where he earned his Ph.D. Dr. Stine's dedication to his congregations and his convictions were paramount. He began his pastorship at Hampton Falls Baptist Church in Hampton, N.H., from 1974 until 1976; he matriculated to the pastorship of the Portland Street Baptist Church in Haverhill from 1976 until 1981. His longest and most loved tenure was as Pastor of the First Baptist Church of Danvers of which he guided the membership from 1981 until his retirement in the year 2000. Peter was a beloved leader of the Church and the Town of Danvers and was warmly welcomed into his retirement years by many faithful friends, followers and colleagues. Professionally, Dr. Stine was a professor of English at Gordon College for 40 years until the time of his retirement in 2008. He truly enjoyed enlightening others, young or old, in the great literary works available to them.
Peter was well known for his charitable acts of kindness through out the North Shore. He volunteered his time as a member of the board of directors of the Salvation Army in Salem and the Danvers Clergy Association, as well as many other groups and organizations. Additionally, he spent time in his retirement teaching English literature courses to fellow Brooksby Village residents.
Dr. Stine served the Lord with unparalleled dedication, wisdom, and creativity for many years. Through the pulpit or the classroom, he was a teacher in the fullest sense — a scholar, a mentor, one who enjoyed sharing the Lord, life and his convictions with others. He was a world traveler, having spent extended periods of time in England, Thailand, and Kenya, carrying Christ's witness wherever he went. Known for his love of music and wonderful voice, Dr. Stine would address his audience in a booming, sonorous voice, diction and deploy a style that harkened back to the great tradition of Baptist oratory. He truly relished leading others in song or verse.
Peter's compassion was strongest for his beloved wife and family. He stood by Betsy's side throughout her long illness and provided for his children all the while managing his own health issues. He was a man of great courage, conviction and will be deeply missed.
Peter is survived by his children, Jennie-Rebecca Falcetta and her husband Anthony of Manchester, Conn., Sarah McKenna and her husband Michael of Beverly, Nathaniel Stine and his wife Rachel of Durham, N.C., and Zachary Stine of Topsfield; five grandchildren; his sister, Frances Overton; his brother, Earle John Stine; his brother-in-law, Ned Carnall and his wife Linda; and several nieces, nephews, and extended family and friends.

ARRANGEMENTS: His funeral service will be held in the A.J. Gordon Chapel at Gordon College, 255 Grapevine Road, Wenham, Saturday, Aug. 13 at 10:30 a.m. Relatives and friends invited. Burial in Walnut Grove Cemetery, Danvers. Visiting hours in the Peterson-O'Donnell Funeral Home, 167 Maple St., (Route 62) Danvers, Thursday from 4 to 7 p.m. and also Friday from 4 to 7 p.m. Online guestbook at www.legacy.com. For more information, inquire at 978-774-6600. In lieu of flowers, expressions of sympathy may be made in Peter's memory to Salvation Army, North Shore Corps, 93 North St., Salem, MA 01970.