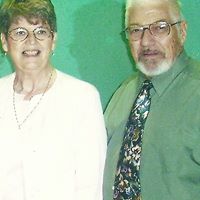 Yvonne Hayes Anderson was born on May 4th, 1936 to Albert and Aleene Hayes in Chicago. She grew up in Mishawaka, Indiana and graduated from Phoenix Christian High in Phoenix, Arizona. It was in Mishawaka where she met Herbert Earl Anderson Jr. They were married on June 22nd, 1957.

Yvonne did many things very well some of which were being the City Clerk in Sutherlin, Oregon; Administrative Assistant to the Dean of Students at Vennard College in Oskaloosa, Iowa; Director of Preschool in Duncanville, Texas; Church Administrative Assistant in several different churches.

All these things Yvonne did as unto the Lord but what she will be remembered for is the love she had for Jesus, her husband, children, grandchildren, siblings, friends and anybody who walked into her life. She was a faithful daughter to her heavenly Father and lived her life in obedience out of her love for Him. She was a faithful wife who loved her husband and walked side by side with him to the very end. She was a faithful mother who sacrificially loved and gave all she had for children and believed in each one up to her very last breath. She was a faithful grandmother who loved her grandchildren more than words can say and learned to be technological so she could keep in touch. She was a faithful sister who would give anything for her family. She was a faithful friend who had more love to give than seemed possible and always had an encouraging word in the right season.

Everyone of these statements have countless stories behind them for this is who she was and this is the legacy she left. We all love her and will never be the same because she was in our life. She was the mother to Herb (Val) Anderson, Jon (Lorna) Anderson, Lori (Russell) Keller, Matthew (Amanda) Anderson, and Jeremy (Jen) Anderson. She was the grandmother to 14 and the great-grandmother to 1. Yvonne has asked that memorial gifts be given to the following organizations in lieu of flowers: First Baptist Church Children's Department, 401 S. 2nd St, Bangs, TX 76823,; Waypoint Church Building Fund, 1313 N 48th Ave, Omaha, NE 68132,www.waypointomaha.com.